Marcy Poindexter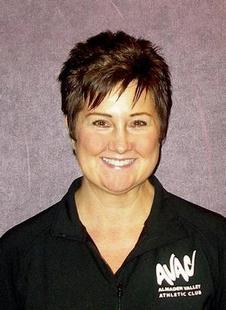 Personal Trainer / AbsoluteFit Coach
Phone: 408.406.0564
Email: mpoindexter@avac.us
Education and Certification
American Council on Exercise (ACE) Certified Personal Trainer
Turbo Kick Instructor
PIYO Strength Instructor
Kinesis
TRX Credentialed
Tabata Boot Camp Certified
Jillian Michael's BODYSHRED
CPR/AED
Marcy has been a personal trainer since 2007. Her prior work experience was in the Healthcare industry dealing with individuals who were seriously debilitated by disease or terminal. From observation & her own experience, she knew that becoming & remaining active ensures a better quality of life. "Remember, every choice you make today in fitness & nutrition affects your future well-being. A future that is full, healthy and satisfying is waiting for you." What quality of LIFE do you want?
Specialties:
• Women ages 35 - 65
• Active women whose metabolism has slowed down & need to rev it up.
• Women who want to lose 5-15 pounds & keep it off by increasing lean body mass.
• Seniors who want to remain active & healthy.
• REV IT UP with Marcy's 8-Week Program!
Read about Marcy's client Claire, who found a new way to rebuild her body after a serious car accident.
Hours:
Monday | 8 am - 2 pm & 4 - 7 pm
Tuesday | 8 am - 2 pm & 4 - 6 pm
Wednesday | 2 - 7 pm
Thursday | 8 am - 2 pm & 4 - 7 pm
Saturday | 8 - 11 am